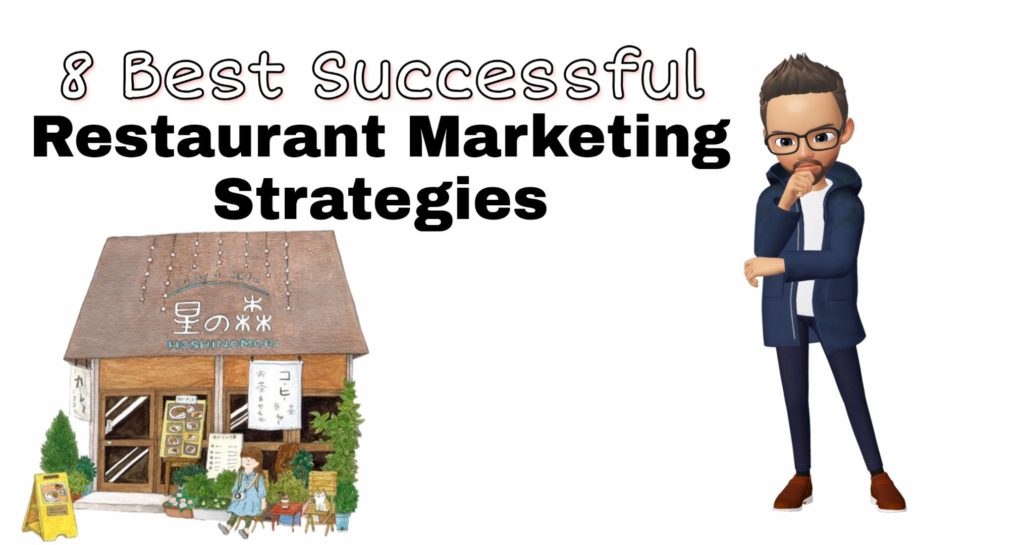 8 Best Successful Restaurant Marketing Strategies || 80% of restaurants fail in their first five years. Why these restaurants fail ? Restaurant owners think this is a source of passive income. You should know the exact costing of each unit of product. Customers want good taste and hygienic food. Now come to the main point which is deep and reason for the failure of restaurant and that is marketing. Restaurants fail because they don't do proper marketing. Marketing is a very big problem.
Everything is going good in terms of price and taste but still fail, why? Even you are in s profitable but still fail, why? Because sales are less due to proper marketing. I will talk about some ideas which many restaurant owners are applying nowadays. And if any of you wants to apply these same ideas on your restaurants so you can apply it.
So here are 8 Best Successful Restaurant Marketing Strategies
Social media marketing
It is telling your customer for taking picture of food and posting them on social media handles and tagging them (Example: On Instagram if you have good number of Instagram followers) . For doing this, we will give you 10% flat discount in this bill. Now many people will see that post and some of them might live near to that restaurants. In restaurants, most of the people come who lives nearby. For example, you went to a restaurant in CP and you shared that post. And then someone another will go there and he will also post and things like this will keep on going. According to me, social proofing is the best thing in social media marketing. Because people will post about restaurant only if you have good food and your network will grow fastly.
also read: List of 10 business ideas to make Money in 2020
Wifi marketing
Usually small restaurants and food outlet do this thing not big restaurants. They offer you free Wi-Fi and tell you to click your picture with our statue. And post that and you have to tag us on your social media then we will give our wifi password.
also read:How to open a retail store in 2020 in Just 3 Steps | Beginners Guide
Youtube Marketing
What actually happens in, a Youtuber will come to your restaurant and make a video of your food and he will post that video on his youtube channel. Because of this you will get a readymade video of your restaurants in front of all the food lovers. Now pricing for youtube marketing fluctuates sometimes. Sometimes a youtuber demands 30k, 50k or xyz amount to come to your restaurant and make a video because his video will bring the audience. And sometimes a youtuber just comes randomly in the restaurant and doesn't charge anything from you. In this case, you will get the benefit. So if you have some unique dish then start finding youtubers and start emailing them or inviting them to your restaurant. Some small youtubers will automatically come all you need to just invite them. So one thing I personally saw it we don't know what will work.
It's all about what they talk in that video and how they keep the audience engaged so even a small youtuber can bring some benefits to you. Now there are some restaurants which are lavish and which are big and they want to invite people. For example, there is a restaurant in CP which organize events on Saturdays and Sundays. So what can they do is they can run paid social media ads all over Delhi and they will tell people about their upcoming event and ask them to join. Now many people will come to the event and have food now if so you provide tasty food then all the people will come again in the future and word of mouth will also spread. Some people give occasionally discounts like Diwali discount and other festivals like on this occasion get this amount off discount and so on. Many people organize some kind of competition at the end of the month so that many people come and participate and make videos and click pictures then posted those videos on the social media. Because of these things, many new people will come to those restaurants.
Cause Marketing
In cause marketing, you market your restaurant by considering that cause and then you get media attention and automatically your marketing will be done in free. For example, In your restaurant, you can offer free food to all those people whose name is Abhinandan and due to this you will get media attention and automatically marketing will be done. You can also offer unlimited food offers. I have already made a video on this so you can watch this video to get some ideas. We saw many times that people run after unlimited offers infact they know they can't eat enough food still they choose it to recover their money. We saw at many places like pay this amount of money and get unlimited golgappe, unlimited snacks, unlimited chicken snacks, unlimited drinks and all.
 WhatsApp Marketing for Re-marketing
If you are a customer they will ask you or your number and other details. And then they will keep sending about new offers and discounts and all to make you come again and again. For example, you set a target of 10k sales and able to achieve only 5k. You can use this style of marketing to complete daily sales target because it's better offering discounts rather than wasting food.
Gorilla Marketing
You placed something interesting in front of your store so more and more people will stop there. And some of them will notice you and come to you. MacDonalds is doing the same thing to their restaurants. Sometimes what I have seen is a burger with cheese. So this things attract people and some of them then think of trying that burger. Actually what happens is these types of unique things usually attracts more and more people. They don't know about the taste and their price but still try because of that unique things.
Theme-based marketing
People decorate their restaurant in specific theme like pubg theme or jail theme which make your experience funnier and enjoyable. So you can also use theme based marketing but try to be different. Like in the Pind-Baluchi restaurant the feel you will have like you are in the village. So you can use this theme because it works but don't use any common theme try to find something interesting.
Packaging Marketing
Start to invest more in the packaging because I have seen many big restaurants who always focuses on their packaging. If I talk about fast stores then they make their packaging with some graphic designs and many things are included there. So you can also do this but don't spend more money in initial days. Until and unless you want to keep your business to the next level. Because packaging is also another important factor for your consumer experience. Barbecue nation started their store, if you want to buy crispy corn then buy individually instead buying whole packet. In starting don't do more work on packaging but what you can do is you can make stickers. I personally believe that if we do restaurant business properly then we will never flop.
comment how much you like this article "8 Best Successful Restaurant Marketing Strategies".
Also Read:How to start car Modification business in 2020